Press Releases — Aug 6, 2018
bswift Receives Chicago's Best and Brightest Companies to Work For® Distinction for a Fourth Year
by Zoya Siddiqui, Communications Specialist at bswift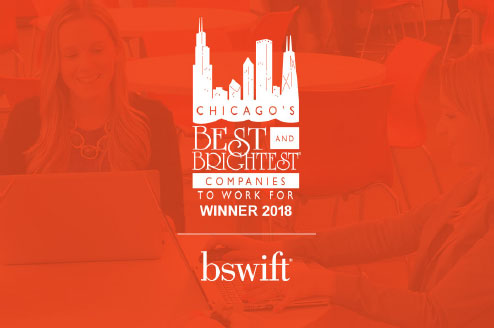 bswift, a leading cloud-based technology company that enables employers to achieve their benefits and engagement strategies, was named one of 2018's Best and Brightest Companies to Work For® in Chicago.
The distinction recognizes bswift for its exceptional human resources practices and excellent commitment to employees based on employee feedback in several categories, including communication, diversity, work-life balance, employee education, retention and recognition.
"At bswift, we strive to maintain an environment that is inviting and motivating for our people," said Sanjiv Anand, bswift President and CEO. "We recognize that each of our employees have different needs and priorities, so we work hard to also provide a diverse array of opportunities for personal and professional growth. We are honored to be named one of Chicago's Best & Brightest for a fourth year and will continue to remain committed to putting our employees first."
bswift and the other winning companies were recognized at the Best and Brightest Companies to Work For awards ceremony and educational symposium at Drury Lane in Oakbrook, Ill. on July 27 and will also be featured in the December 15 online issue of Corp!Magazine.
For more information about the nomination and selection process, please visit the Best and Brightest website.
About bswift
bswift is changing the world of benefits administration by combining deep expertise and a passion for technological innovation with a unique consumer-driven approach. Partnering with enterprises nationwide and serving millions of employees, bswift offers cloud-based technology and services for online enrollment, interactive decision support, ACA compliance reporting and employee engagement. bswift also provides access to consumerism, product and consulting solutions needed to build a benefits program specialized for both employers and employees alike. For more information about bswift, an Aetna company, visit www.bswift.com.