Articles — Mar 13, 2017
An unexpectedly rewarding partnership
by bswift, Insights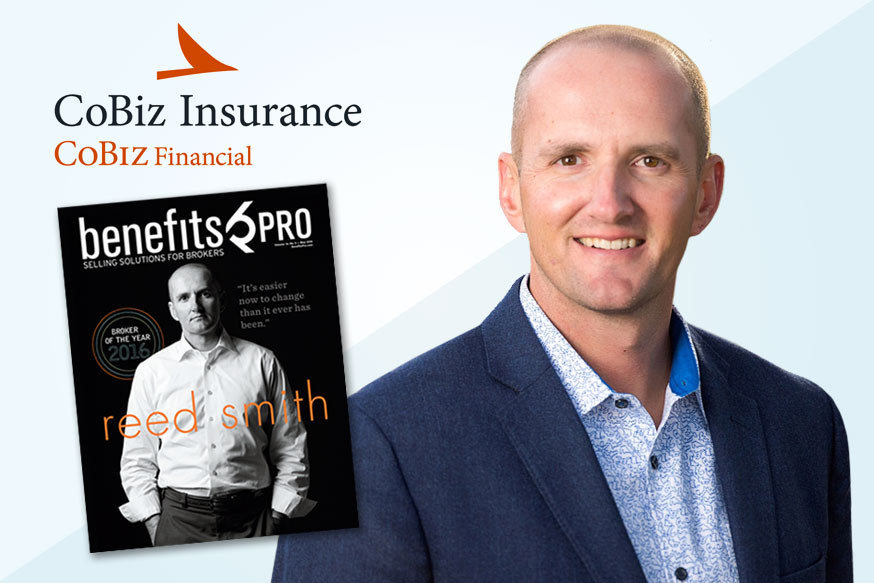 Meet Reed Smith, a Senior Vice President at CoBiz Insurance, a subsidiary of CoBiz Financial. Smith, recently named Benefits Selling's 2016 Broker of the Year, has always been on a mission to empower his clients and their employees to make great benefits decisions with the help of the latest technologies, like the bswift platform.
While searching for the 2016 Broker of the Year, Benefits Selling stated, "We're looking for someone who stands out among their peers and who is taking positive and revolutionary steps to shape the industry's future," and that's exactly what Smith and his organization are doing.
Smith is uniquely qualified with experience on both the broker and carrier sides of the benefits administration industry. He advises his clients to focus on what they can control in the world of benefits, developing strategies that transcend trends, regulations and politics.
Employees can expect easy customization of benefits
CoBiz Insurance has been a bswift partner for nearly four years and Smith was part of the team that decided to begin that relationship. According to Smith, most people would say the benefits industry is lacking in quality technology when compared with other industries they're familiar with, which is why bswift resonates so much with him.
These days, there are four generations in the workforce, so a "one size fits all" strategy is no longer effective. In order to get the level of customization employees need, employers have to provide the tools and tech that everyone has come to expect in other areas of their lives.
---
"A great byproduct of our partnership with bswift, is that employees actually understand the value of the benefits their company is giving them," said Smith. "If they don't understand it, they're not going to appreciate it."
---
With bswift, Smith has been able to help employees see their benefits in a whole new light. When using the platform, employees are fully aware of what's being offered, so they can make the right choices for themselves and their families.
Employers can inform their strategies with bswift
Employers also benefit from the use of a technology platform's data and analytics to inform strategies and measure the value of the improved health of their employees.
"The common denominator in all of those strategies is a better use of technology, and our relationship with bswift is a big part of our evolution in integrating technology into all aspects of employee benefits," Smith said.
According to Smith, the use of technology has especially improved the open enrollment process, which many employers and employees alike don't look forward to.
"An unexpected benefit of bswift is that it brings that process into a 21st century platform where both the employer and employee realize that this is actually an amazing culture-building moment for the company, not a renewal process that many people dread," said Smith.
Brokers can expect success when they partner with bswift
In the year ahead, Smith and CoBiz Insurance plan to continue taking the revolutionary steps that earned him the Broker of the Year award by building technology into benefits discussions with all of their clients. Smith encourages other brokers to use the current climate of healthcare change as an opportunity to help their clients evolve strategies and technologies.
"Focus on strategies that can outlast politics," Smith said. "That's really what it comes down to. Investing in health, employee engagement, consumerism and strategies that can customize the employee benefit decision-making experience for four different generations that are working in the workforce today."