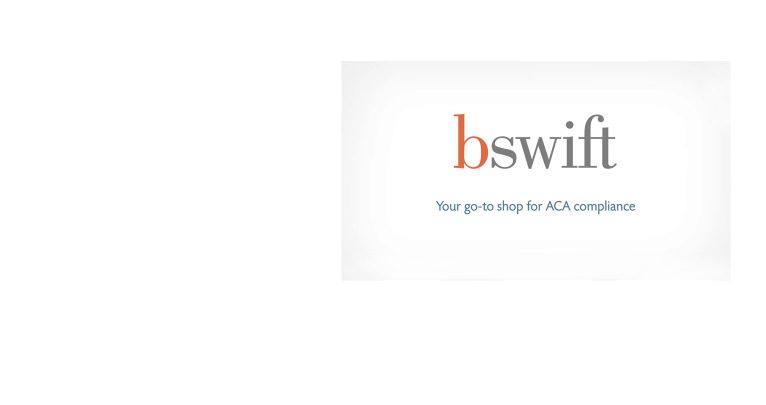 ACA Compliance Support Video Transcript
Hi, I'm Emma. And I'm going to show you how bswift helps eliminate your ACA tax woes. That's information we already keep in the bswift system just from everyday use. bswift calculates your lowest cost eligible plan across all three safe harbor methods.
30 hour rule calculations? Oh yeah, we do those, too. Even across multiple reporting entities. This old thing? We're already providing employee and dependent coverage information to your medical carrier. Providing it to the IRS, too, is a piece of cake.
We don't just help you with the forms, we complete them for you. The 1095 and 1094C, the 1095 and 1094B, we'll prepare the information you need to file with the IRS and we'll even distribute them to your employees if you want. Electronically or by mail.
Watch out. Doing those calculations requires a boatload of Ben Admin data. And while many different types of vendors offer ACA services, unless they're also your Ben Admin company, bswift, there's a good chance you'll end up paying twice. Once to get the data for the vendor and then again to get their service.
We're ready to handle mid-year transitions. Come to bswift and the bswift team will work with you to get the older data into our system. We'll have you ready for those 2015 tax returns. And our team of experts keeps up with legal and regulatory changes, so we're always one step ahead. Including right now. Our first client went live with our ACA management suite all the way back in 2013 and we've been helping clients with ACA challenges ever since. Learning and growing along the way.
You can't see me shaking my head no right now, but I'm shaking my head no right now. Our ACA management suite is flexible enough to handle all types of groups. All our services cover a huge range of needs and we'll keep them fresh to remain your go-to shop for ACA compliance.