Articles — Mar 12, 2020
Season 1 of bWise: Top Three Takeaways
by Sharon Morrissey, Co-host of bWise and Business Development Manager of Channel Partners at bswift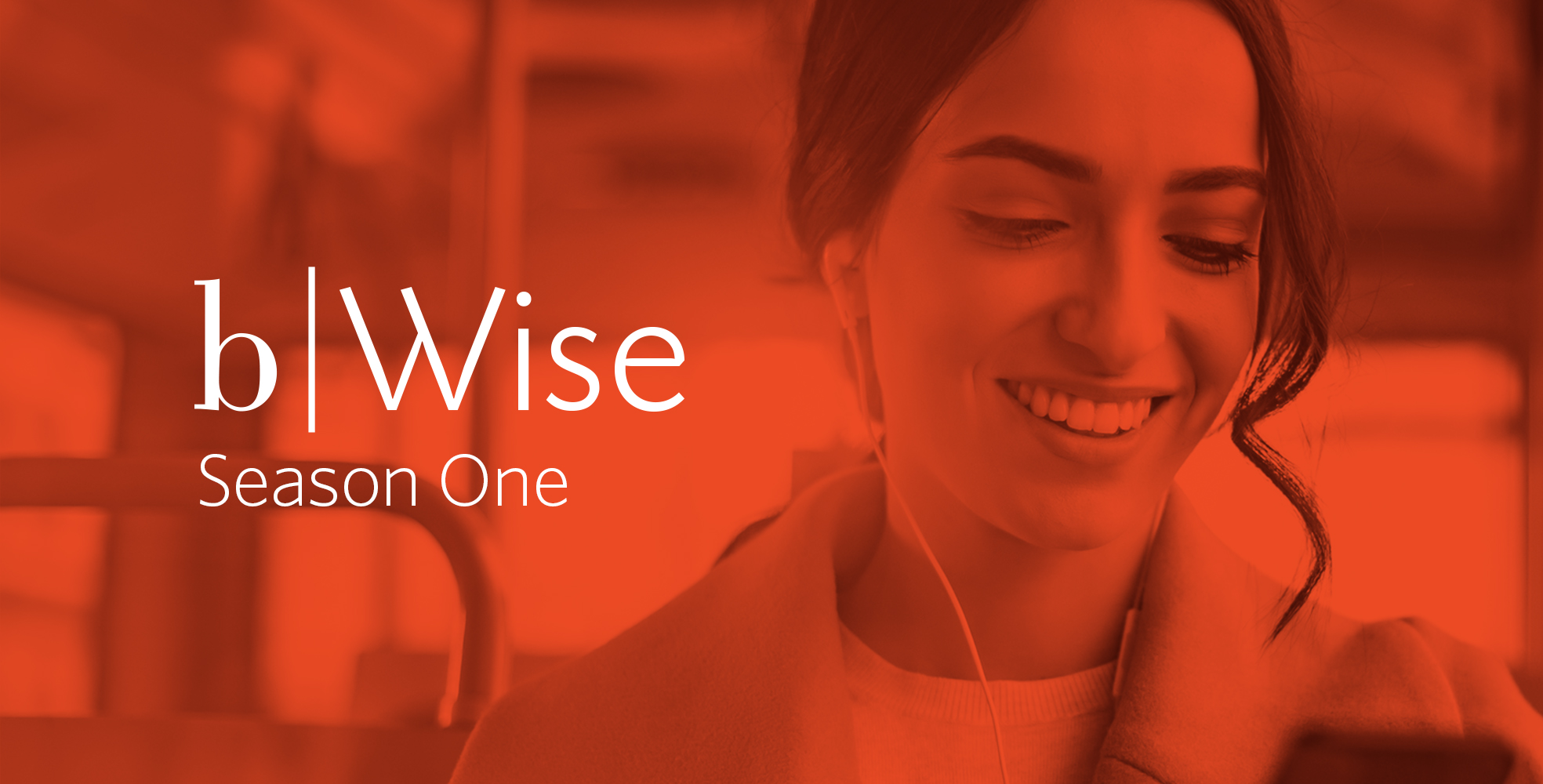 We recently launched our new podcast, bWise! Follow along as Don Garlitz and I connect with founders, CEOs and executives of some of our industry's greatest companies. You'll hear exciting discussions on entrepreneurship, management and what it takes to build, sustain and grow a successful company and career.
Season 1 is currently being released! Check out our top takeaways from this season below, and stay tuned for new episodes.
1) The benefits of the benefits industry
When you were first starting out in your career, working in the benefits industry may have been the last thing on your dream career list. But the truth is, the benefits industry is a great place to be.
Benefits and benefits technology are both major growth industries and are a staple to our economy. According to Grand View Research, the global human resource management market size is anticipated to reach $38.17 billion by 2027. Season 1 guest Raul Villar, CEO of Paycor, pointed out that the annual growth rate of the HR technology space greatly outpaces that of the U.S. economy, which according to the Wall Street Journal, hovers at around 2%. When looking for an industry that holds potential and exciting growth, benefits and benefits technology should be top of mind.
Not only should industry growth excite benefits professionals, but the opportunity within the industry is vast. Work being done by brokers, insurance carriers, consulting agencies and technology vendors require employees who specialize in areas across the board – from technology, to project management, consulting, marketing and more. There's a place for all skillsets within this ever-evolving industry that affects thousands of companies, employees and families across the country.
Additionally, Season 1 guest Michael Haske, CEO of Paylocity, explains that the benefits industry provides opportunity to gain access to, help and support the businesses that are building America. At the end of the day, those in the benefits industry are doing work that positively impacts the national economy on a macro level and individual employees on a micro level. Insurance is complicated and helping employees get the right coverage and ensuring they're educated about their coverage, is of paramount importance. After all, some of life's biggest stressors revolve around finances and health – and the benefits industry has a direct impact on employees' ability to navigate this tricky ecosystem.
2) How your leadership style can go a long way
As guest Ed O'Malley of NFP states, "hire the best people and delegate with abandon". I think we can all agree that there is nothing worse in the workplace than a micromanager! Our guests on Season 1 of the bWise podcast have explained their number one priority is to enable their employees to do their jobs the best they can – it's really that simple. In order to do this, guests shared four tips for today's business leaders:
Delegate and trust that employees will do their best
Remove obstacles from employees' path to success
Help employees learn from mistakes and failures
Provide employees with the tools and resources they need to be successful
When it comes to talent, our guests shared some important advice on how to foster talent within an organization. Here are a few tips they shared on how to do this:
Touch base frequently. Regular communication is key.
Get to know your employees on a personal level. Take interest in their lives!
Foster bi-directional transparency. Transparency from leadership to employees on business goals and company vision is one direction of transparency. In other words, inform your people of the broader mission so they know exactly why they do what they do. Fostering reverse transparency, from the employee to leadership, is equally as important. It's important for leaders to hear business feedback from the employees who are frontline with the customers and products. Secondly, fostering an environment where employees can communicate with management about their growth and career goals is critical.
Keep up with an evolving marketplace. This is a fast-changing industry and it is leadership's responsibility to have a strategic plan that surrounds the evolution of the marketplace.
Stay current on industry insights. Keep an eye out on what's trending in your business.

Data is key.

Collect and leverage data on your workforce to ultimately drive how you manage them more effectively.
Support your workforce. Provide tools and resources for leaders and employees within the organization to help them be more effective.
Build a strong company culture. The right team and the right team members drive a company's success. Remember, just because an employee is good at what they do doesn't mean that they may be the best cultural fit. Hiring the right people is the first step towards building a strong company culture.
Lead by example. Show employees that you as a leader are invested in what they do from a business perspective. Don't be too busy to be present.
Work-life balance. Support and demonstrate business practices that foster a well-rounded lifestyle.
3) Tapping into habits and rituals to drive success
To quote CEO of Brown and Brown and Pacific Resources Group, Paul Rogers, you must "plan your work and work your plan". One way to do this is to have a strong daily routine. It's helpful and healthy to have daily habits and rituals to stay in control of your own day! Our Season 1 guests reminded us to wake up early and get ahead during the hours of the day that are in your control. Every moment in your day is time to drive personal or business success, so it's important to be selective with how you use it.
Our Season 1 guests also urged the importance of staying in touch with your priorities. Limit your priorities to a finite number. If you're Michael Haske from Paylocity, you may choose to limit it to five things that you will put 100 percent of your efforts towards until one is complete and can be replaced with a new priority. This practice will help you stay focused on your top personal and business priorities when life's distractions present themselves and compete for your time and energy. There are plenty of opportunities to chase down, so it's important to prioritize them in order to avoid spreading yourself too thin.
Here are some additional tips our Season 1 guests shared:
Attitude makes a difference. Raul Villar of Paycor reminded listeners to show up on time, work hard and have a great attitude through it all. Your attitude is something you have complete control over, so remind yourself to stay positive every day.
Be resilient. When we met with our Season 1 guests, one constant theme was the importance of getting back on the saddle after having a tough day, quarter or season. You will never close 100 percent of your deals in sales or live any one day to perfection but having the grit to keep moving is key. Use Newton's first law of motion as guidance, objects in motion stay in motion and objects at rest stay at rest – when it gets tough, don't stop! Just keep moving.
Create your own work life balance. Make time for your family and encourage this of your employees, too. Encourage your workforce to leverage available tools and resources to stay connected if they must attend to a family or personal matter during business hours. With an untethered workforce, it's easy to catch up on work after parent teacher conferences, or dial into a phone call while at home caring for a sick child. Technology allows us to accomplish more outside of the brick-and-mortar and, in turn, allows us to spend more time with the ones we love at home.

Find passion outside of your passion for work.

Whether it's fishing like Jamie Hawkins from BTR or reading like Mike Simonds from Unum, find a passion outside of work. Having outside passions drives creativity, social connection and relaxation.
Listen to bWise now on your favorite streaming platforms including Spotify, iTunes, iHeartRadio, Soundcloud and Stitcher!