Articles — May 22, 2017
Health Care Reform: Thoughts from Miami, Washington and Beyond
by Don Garlitz, Senior Vice President of Strategic Partnerships at bswift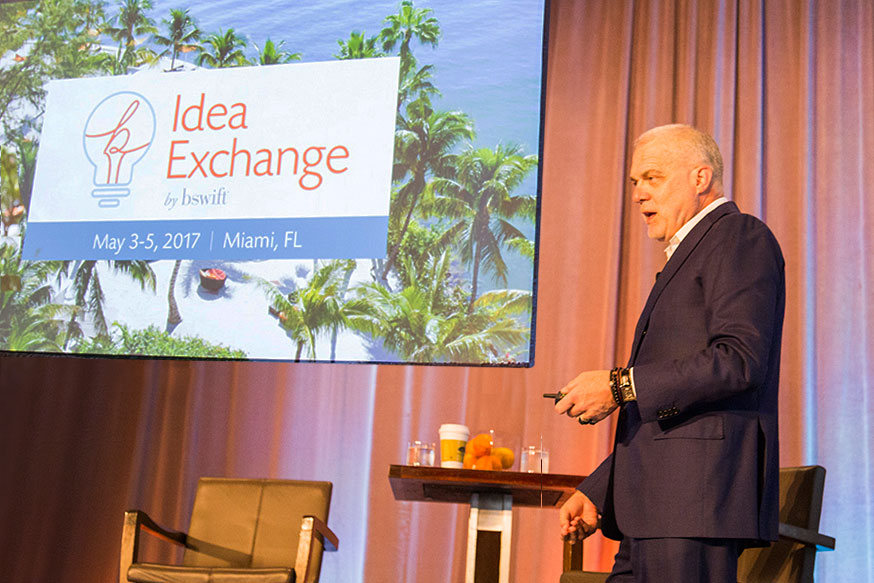 Benefits administration and healthcare experts gather at bswift annual conference as House passes bill to repeal and replace Obamacare
One of the many highlights from this year's bswift Idea Exchange, held May 2–5 at the Mandarin Oriental Hotel in Miami, was Aetna Chairman and CEO Mark T. Bertolini and Aetna Vice President and Head of Public Policy, Bonnie Washington, joining us to discuss recent movements on federal health care reform.
In fact, Washington addressed the crowd of nearly 300 bswift clients and channel partners only an hour before voting began to successfully pass the American Health Care Act. To learn more, check out this helpful comparison of the AHCA to current law.
So now what?
The work has now begun in earnest in the Senate to craft a similar bill. Any differences might need to be reconciled by conference committee, or possibly through an altogether new bill that takes a fundamentally different direction. Recent news reports indicate that the Senate is unlikely to pass a substantially similar bill, which means that the House and Senate will need to reconcile the two bills before something could become law.
What to watch for
Most of the changes that the AHCA would bring affect the individual insurance market more than employer sponsored insurance, but here are a few key points employers should note:
The bill would reduce the employer mandate penalty to zero, effectively repealing the requirement to offer coverage. This won't necessarily mean the end of 1094/1095 reporting, so stay tuned to how this reporting obligation plays out.
Health Savings Account contribution limits would increase.
The bill would delay implementation of the Cadillac tax until 2025 and repeal the Health Insurance and other healthcare related taxes.
The CBO is expected to release a score of the House-passed bill before Memorial Day. Previously, CBO had estimated that 24 million people would lose coverage in 2026 as a result of the earlier bill. CBO will determine how the changes made in the House passed bill will affect that number.
A bumpy road ahead
Aetna Chairman and CEO, Mark Bertolini, gave the keynote speech at Idea Exchange. While he focused on member engagement and an inspiring vision of the future of healthcare, he also weighed in on health care reform. "Obamacare should be fixed, not replaced," Bertolini said, adding that a bipartisan solution is needed. He pointed out that no major social service legislation (Social Security, Medicare, Medicaid, CHIP, etc) has been passed on a party line vote until the Affordable Care Act, nor has any such major legislation gone so long (7 years so far) without changes or updates.
---
Final thoughts…
It has become abundantly clear that improvements are needed. We believe that a bipartisan solution is needed to make our healthcare system more stable, affordable, and help people achieve their personal health goals. Look for an upcoming outline of Aetna's vision for healthcare reform, to be posted in the coming days.