Spotlight Resources — Aug 5, 2019
Creating an Employee-Centric Benefits Communication Strategy
by bswift, Insights ---
WEBINAR
Creating an Employee-Centric Benefits Strategy
Two-thirds of employees feel that making sense of their benefits is too complicated.* Why? Ineffective, inconsistent benefits education and the lack of a personalized enrollment experience are likely reasons. With open enrollment approaching, we've got a few tips to help you redefine your strategy, demystify enrollment and create an optimal experience for your workforce. * Aflac, 2018
View a recording of the Webinar

Hear from communication and technology experts from bswift and Waters Technologies Corporation for an insightful virtual panel discussion on:
Strategies for putting your employees at the center of their benefits experience through year-round engagement
Understanding employees' needs and goals to craft personalized benefits communications
Tips for building your organization's unique "benefits brand"
Hear from communication and technology experts at bswift and Waters Technologies Corporation:‌

Sue Getz

Communication Leader -
Practice Leadership at bswift

Justin Dauer

Vice President of
Human-Centered Design and Development at bswift

Robert DiFabio

Director, North America Benefits at Waters Technologies Corporation
---
ADDITIONAL RESOURCES
5 Tips for a Successful and
Low-stress Open Enrollment
Whether you're about to kick off open enrollment or have a month to go, here are a few last-minute tips to help make this year's enrollment season your best yet.
---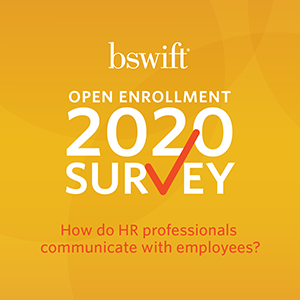 Let's hear from you!
With open enrollment around the corner, we're curious to hear about your benefits communication strategy. Please share your experience in this brief, 2 minute survey (plus, you'll be entered into our raffle to win a pair of wireless headphones!) We look forward to receiving your responses!
---

365 Days of Benefits
We've got 3 quick tips for employers to help their workforce engage with their benefits year-round.
---
Hear from our customers and partners
Read more about what our customer and partners have to say about bswift's communication tools.
"One of the top benefits of bswift is Ask Emma. As someone who does new hire orientations, I'm often asked 'What plan is right for me?' Having employees go through this tool and put in their own personal information has been extremely helpful."
– Stacey Wyshynski, Benefits Specialist at Boehringer Ingelheim
See what they are saying - infographic pdf

---
Traditionalists Through Gen Z: Benefits Administration and Your Multigenerational Workforce
Although there are varying opinions on the exact date ranges which define each generation, we can all probably agree that each one has their own unique priorities, values and communication style. So, as you may imagine, employee benefits should ideally be administered in a way that is accessible and helpful to everyone. But how can you actually make this happen?
see how to provide the best enrollment experience
---
See firsthand how our platform transformed the benefits experience for the largest construction materials producer in the world.