Articles — Feb 27, 2018
Traditionalists Through Gen Z: Benefits Administration and Your Multigenerational Workforce
by Zoya Siddiqui, Senior Content Strategist at bswift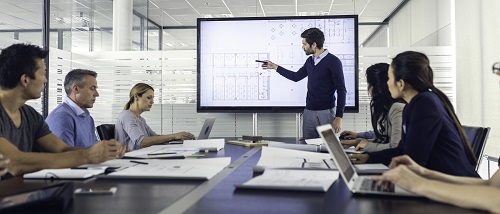 Today's organizations are seeing up to 5 generations working side-by-side for the first time in history. While millennials currently make up the core of the workforce, today's employees range from teenagers to individuals in their late 70s.
Although there are varying opinions on the exact date ranges which define each generation, we can all probably agree that each one has their own unique priorities, values and communication style. So, as you may imagine, employee benefits should ideally be administered in a way that is accessible and helpful to everyone. But how can you actually make this happen?
Let's take a look at what defines these 5 distinct generations and how you can provide the best enrollment experience for your multigenerational workforce.
Traditionalists (1945 and earlier)
Provide structure with decision support tools
These employees are in their 70s now, making up about 3% of the workforce. While many have integrated technology into their lives, some still strongly prefer face-to-face interaction and formally written communications. Traditionalists generally crave structure and appreciate your undivided attention.
Decision support tools can go a long way. With most organizations shifting toward online, self-service enrollment platforms, this can be overwhelming for anyone who is less tech-savvy and prefers face-to-face communication. A built-in decision support tool provides structure to enrollment: it helps users better navigate the portal and simplifies the experience by suggesting the best options for them.
Baby Boomers (1946 – 1964)
Engage with personalized, detailed and clear communications
As the children of traditionalists and parents of millennials, many baby boomers fall into the larger 'sandwich generation': "sandwich" because they're experiencing the stressors associated with both caring for elderly parents and supporting children. Boomers appreciate personalized communications. They're detail-oriented and value meaning: let them know whysomething is important and how it's personally relevant to them.
Leverage employee data to segment your workforce and deliver targeted benefits communications. And, while it's important to make sure all benefits information is conveyed clearly and simply during enrollment, let your workforce know they can easily access the technical and detailed plan information, too. Finally, ensure and communicate a simple process for employees to contact a representative with any specific questions.
Gen X (1965 – 1976)
Allow for flexibility via an online, self-service platform
Much of Gen X also falls into the sandwich generation. Many are raising school-aged children while simultaneously realizing their aging parents require more attention. However, Gen X is generally independent and self-sufficient; they value autonomy and don't mind figuring things out for themselves.
Luckily, an online self-service benefits portal is the enrollment method most organizations are opting for today. This cuts out a lot of the back and forth between employees and HR. Just having the flexibility to learn about their options and enroll on their own time and in their own way is ideal for Gen Xers.
Millennials (1977 – 1995)
Help them weigh options with a comparison tool
Millennials cut to the chase; they value honest, to-the-point interactions and tend to opt for digital communication over face-to-face conversation. This group appreciates having options, especially when the differences between each are distinctly communicated.
Most would undoubtedly prefer an online self-service portal like Gen Xers, but providing a benefits comparison tool within the portal is key here. In the world of benefits, options abound. So, being able to lay the most essential plan and program details side-by-side is a helpful feature for millennials.
Gen Z (1996 and beyond)
Ensure on-the-go access with a mobile-friendly platform
Often called "iGen", the newest generation to hit the workforce is even more tech-driven than their millennial predecessors. Plus, Gen Z values engagement and transparency: they not only like to receive feedback, but they also want their voices to be heard. They consume information at a rapid pace, so succinct communications targeting big picture ideas are crucial.
Ensure a mobile-friendly enrollment experience. Gen Z is on the go and tech-savvy; they should be able to access their benefits information whenever and wherever. And, ask your employees for feedback on your organization's enrollment process (chances are, Gen Z won't be the only ones eager to share!) Finally, keep benefits communications tight and concise.
---
So, what are the key takeaways here?
Benefits administration can never be a "one-size-fits-all" process.
Know your workforce. Consider how they communicate and identify their unique needs.
Provide an enrollment experience that seeks to address this range of differences head-on.