Articles — Oct 8, 2018
A Human-centered Approach to HR Tech
by Zoya Siddiqui, Senior Content Strategist at bswift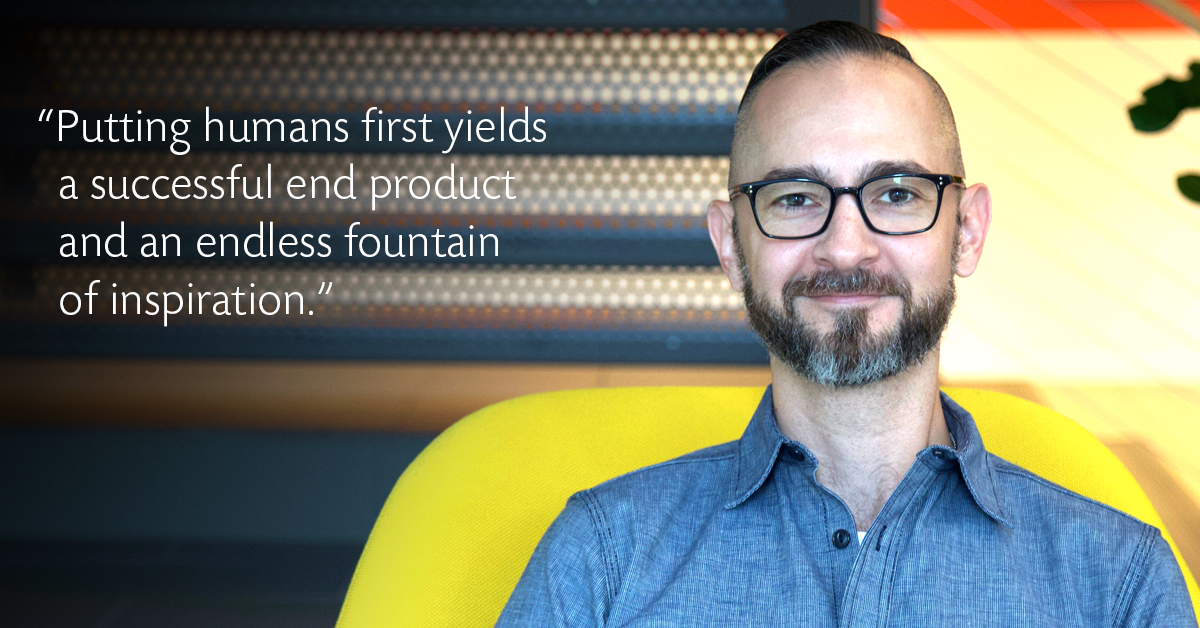 HR as a people-first advocate was a common theme running through several of this year's HR Tech Conference keynotes and sessions. We couldn't agree more – making a conscious effort to deeply understand employees' needs and tailoring the workplace accordingly is essential to having a happy, healthy and productive workforce. Often, the perception exists that HR is solely focused on providing for and protecting the needs of the company, rather than supporting its employees. This misconception is one that many HR professionals find themselves battling, as they intend to serve as a bridge between employees and employers, and ensure that employee perspectives are heard.
With many HR processes now automated, this "people-first" mentality should undoubtedly crossover into the HR benefits technology space, as well. In anticipation of hearing more on these themes at this year's HR Tech conference, bswift's Vice President of Human-Centered Design and Development, Justin Dauer, shared his thoughts on the importance of taking a human-centered design approach to benefits technology.
Designing with empathy
"Human-centered design is a very specific practice; you're making sure the very people you're designing, developing, and advocating for are included throughout the entire design process. And this is how my Human-Centered Design and Development team creates. A person's tasks, needs, decision factors, and emotional state are always empathetically advocated for. This always ensures a personal, intuitive experience," Dauer says.
Creating a flexible experience
Today, 59% of U.S. consumers expect their healthcare digital customer experience to be similar to retail*. More and more consumers are using mobile to manage everything from shopping, to meal planning, to Netflix bingeing. An HR organization that prioritizes an intuitive mobile experience enables HR to meet employees where they are when they are engaging with company benefits.
Dauer recognizes the importance of using mobile as the touchstone for a human-centered design approach. "Our design process revolves around the Mobile First methodology; that is to say, we begin at the smallest viewport (mobile) and progressively scale up from there. By starting small first, we're able to impose a content (and design) strategy on everything we do, making hard decisions on exactly what information, or functionality, is present at any given time. We can never assume where a user will want to choose their benefits (on the train, on their couch, at their desk), so we must ensure the experience is flexible and robust agnostic of where it's being accessed. So, though we say 'Mobile First', by designing in this manner we actually mean 'humans first,'" he says.
Ultimately, HR organizations that incorporate thoughtful human-centered technology experiences into their overall benefits strategies will see a pretty compelling ROI — a Gallup study indicates that companies with robust benefits strategies experience 31% lower turnover and 31% higher productivity.**
Cultivating a human-centered mindset
"Putting humans first – in our design process and on our team – yields a successful end product and an endless fountain of inspiration. My Human-Centered Design and Development group always works time into our schedules to communicate what fuels each of us creatively and strategically. We pause with intent, and connect as people on what our creative challenges – and triumphs – are and how we can learn from them. Across quality of work, quality of culture, and quality of life, the result is nothing short of industry transformation," Dauer says.
Justin Dauer is a designer, author, and speaker from Chicago. He wrote the celebrated book Cultivating a Creative Culture, is the Vice President of Human-Centered Design and Development at bswift, and a contributor to leading web design e-zine, A List Apart. Want to hear more from Justin? He'll be a keynote speaker at MidwestUX in Chicago! Learn more.
* NTT DATA Services, Healthcare, HIMSS18, Digital Experience Study
** Gallup's State of American Workplace Study